When we bought Les Petites Vaines, we were looking for a different life… A healthier, gentler, and more preserved life… But most importantly, a life with more nature and sunshine!
With our three children, we left Lyon and our jobs – I was a journalist – to settle in the Luberon. While visiting the area, the idea of creating vacation rentals emerged: the space and layout of the house were perfect.
After two years of renovation, and our daily involvement (painting, flooring, decoration), the Domaine was finally able to open (since October 2018). We envisioned Domaine Les Petites Vaines as a family-friendly, cozy, and stylish place in the heart of an exceptional natural site, classified as Natura 2000.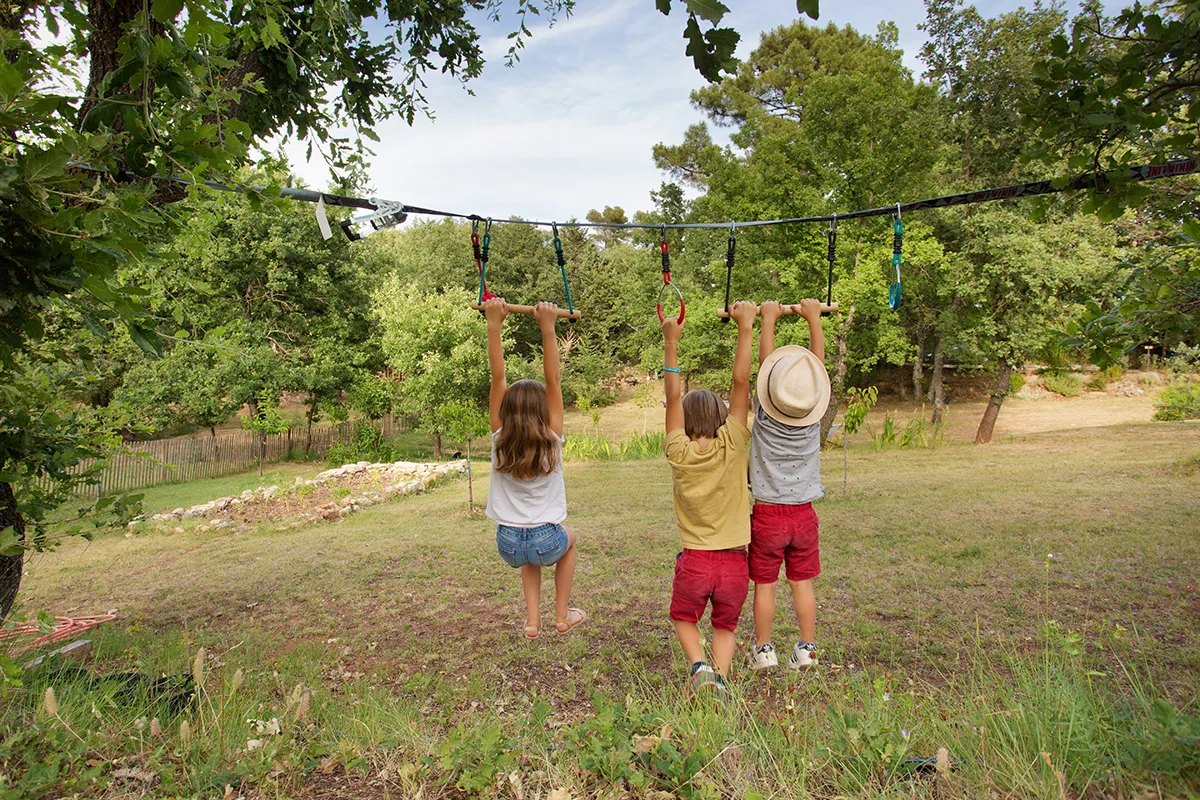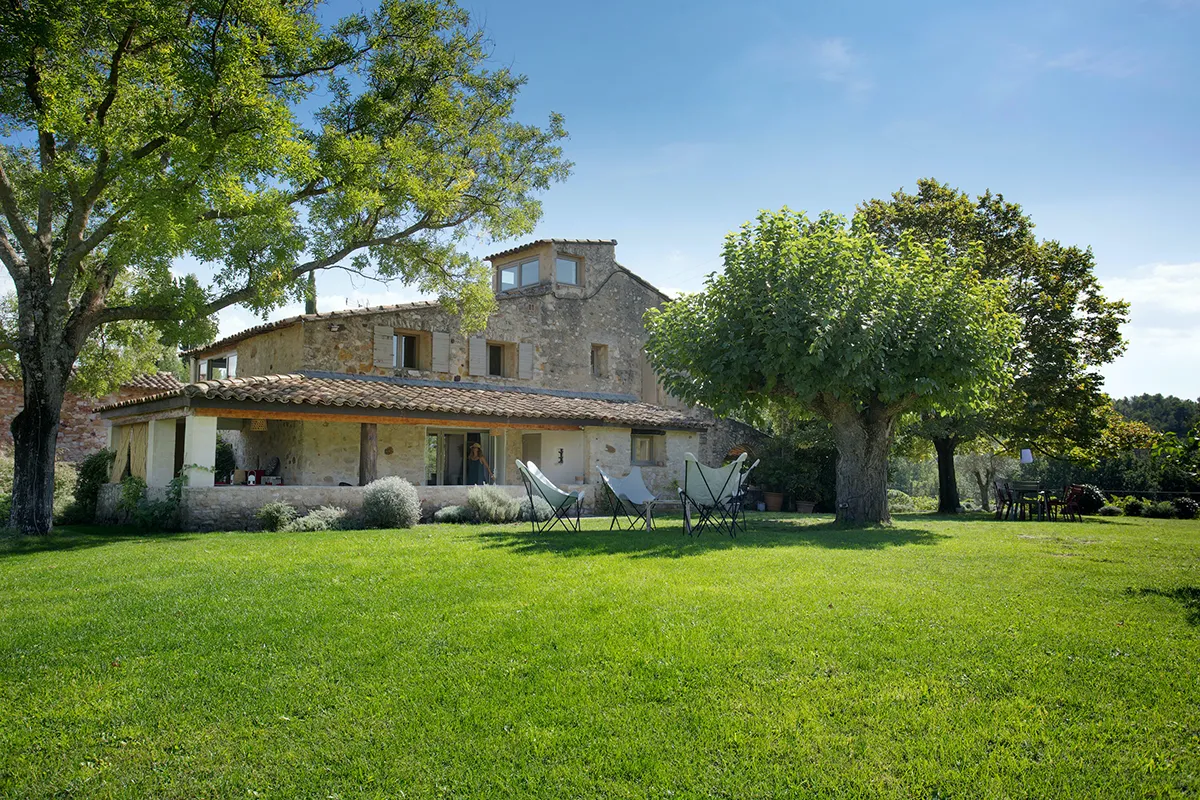 The house
Are you looking for a typically Provençal building in the heart of the Luberon? You'll love Domaine Les Petites Vaines, a former 18th-century stone farmhouse fully renovated in a chic bohemian style.
The plus side: the warmth and friendliness of a family home where you feel 'at home'.
Domaine Les Petites Vaines is located in a lesser-known village in the Luberon: Goult. But it is so beautiful and absolutely worth discovering! The narrow streets and old mill are adorable and remain much more preserved from tourism than other villages, even in high season. Everything is there: a small village café, a butcher, a bakery, a cheese shop, a small grocery store, restaurants, an antiques dealer…
The swimming pool
The swimming pool (14 m x 4) is ideally located, at the edge of the pine forest and on a promontory with a view of Mont Ventoux and the hills of the Luberon.
With its stone coping and dark gray color, it blends perfectly into the landscape. You can relax in the shade of a hundred-year-old olive tree, with your feet in the water, from 9 am to 8 pm. Sun loungers and deck chairs are at your disposal.
The pool is accessible to the three gites and is shared with us and our children (aged 13, 10, and 7). Pool towels are not provided. Please note that the pool (unheated) is not monitored, so children must be under the responsibility of their parents.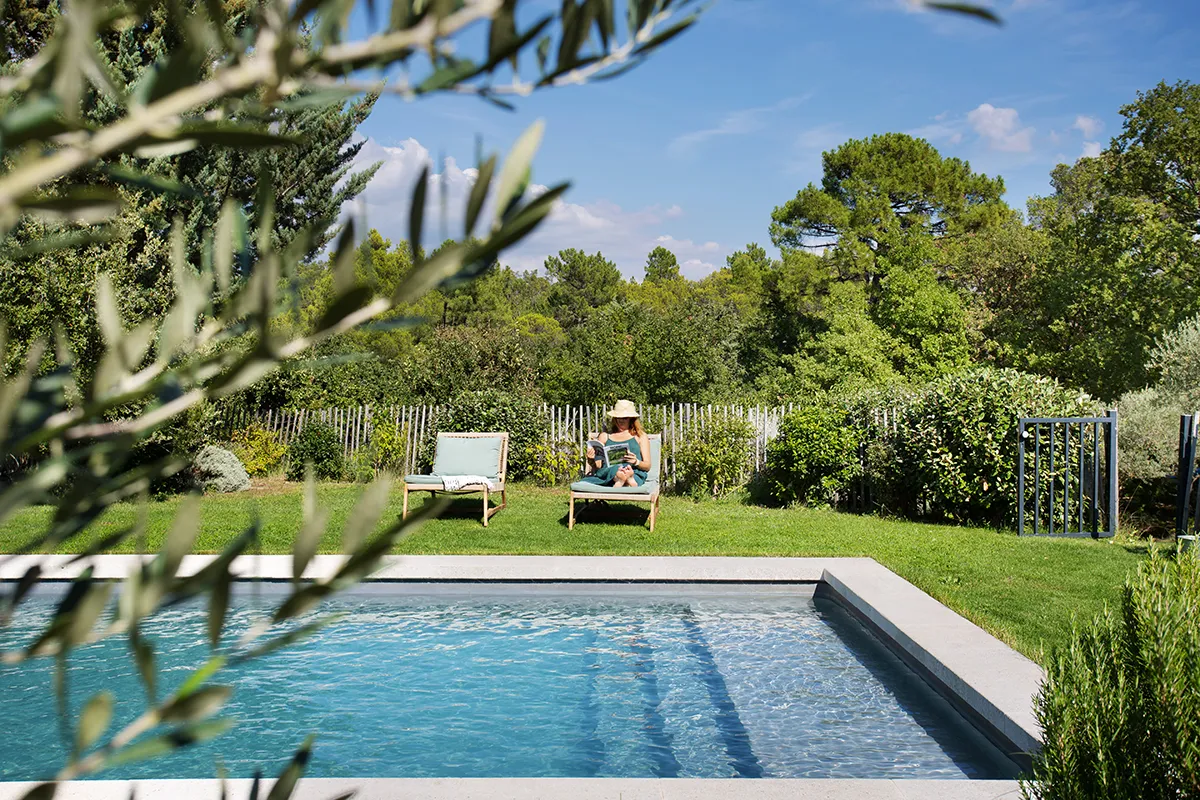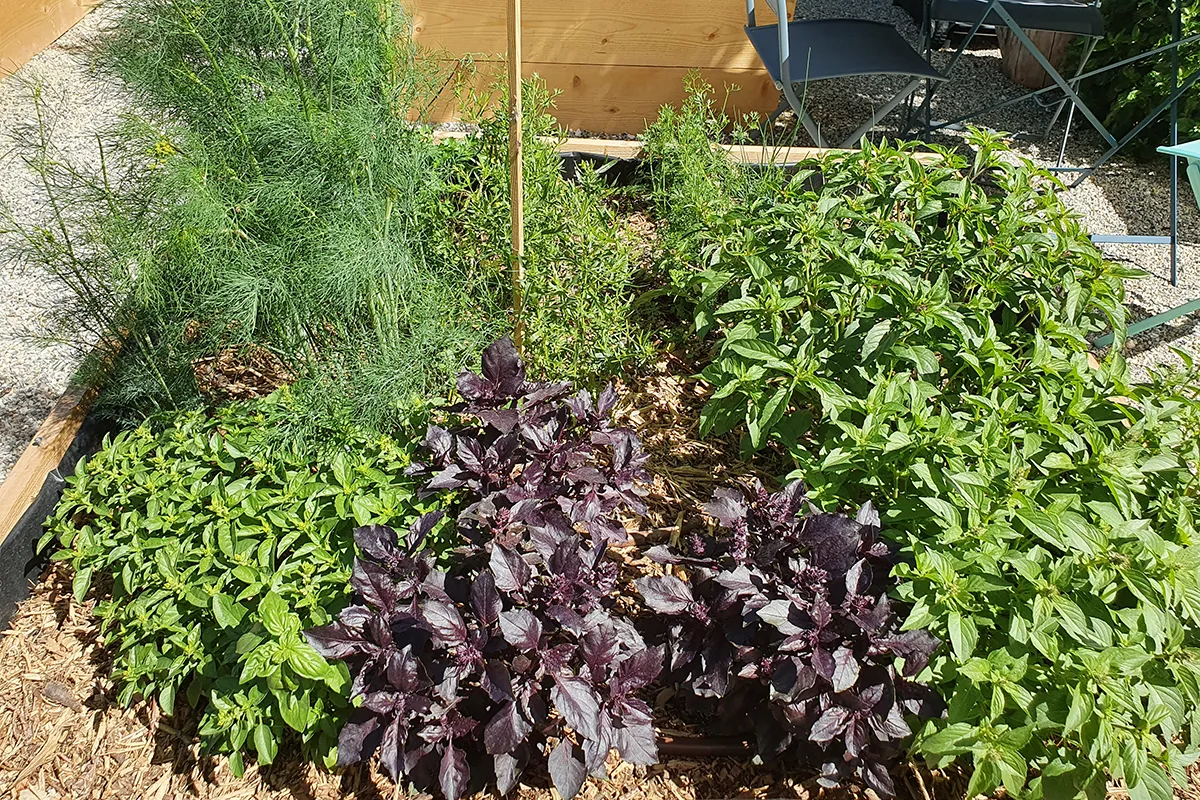 The garden
When we first visited the Domaine, it was the two-hectare park that captured our hearts.
The site is exceptional: peaceful and surrounded by nature, the park is planted with Mediterranean species such as maritime pines, olive trees, and holm oaks, as well as fruit trees including fig, cherry, pear, apple, quince, pomegranate, and persimmon. The whole park is bordered by a magnificent forest, classified Natura 2000 -where pairs of Bonelli's eagles nest- and ochre cliffs. Down in the garden, you can also pet the two English sheep: Arthur and Lune!
the vegetable garden
You can enjoy the organic vegetable garden, located right next to the private terraces. Depending on the season, you can pick tomatoes, lettuce, eggplants, zucchini, or raspberries. It's a real return to the land.
Three cottages for rent in the heart of Provence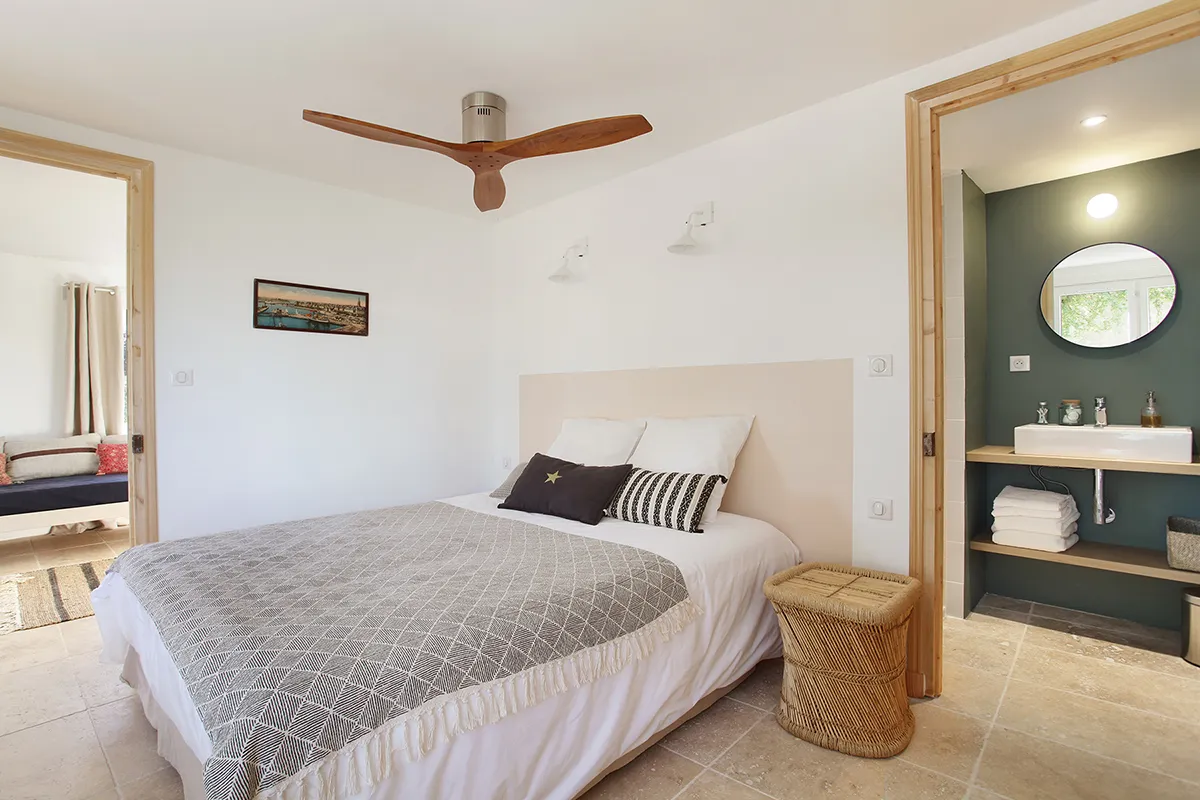 Starting from 136 € / by night
Cottage Salvia
For 2 to 3 people (35m²)
A high-end cottage with a cozy and chic decoration.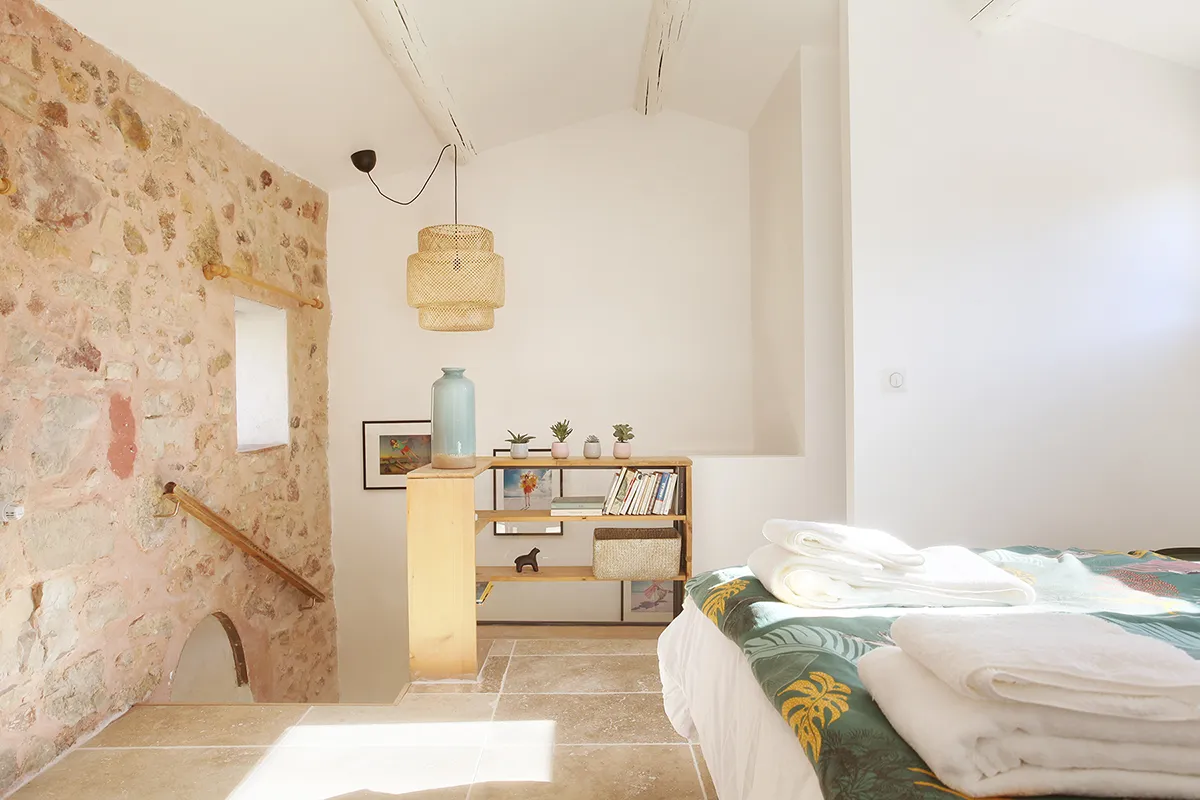 Starting from 157 € / by night
Cottage Bonelli
For 2 to 3 people (60m²)
A high-end duplex cottage with a cozy and chic decoration.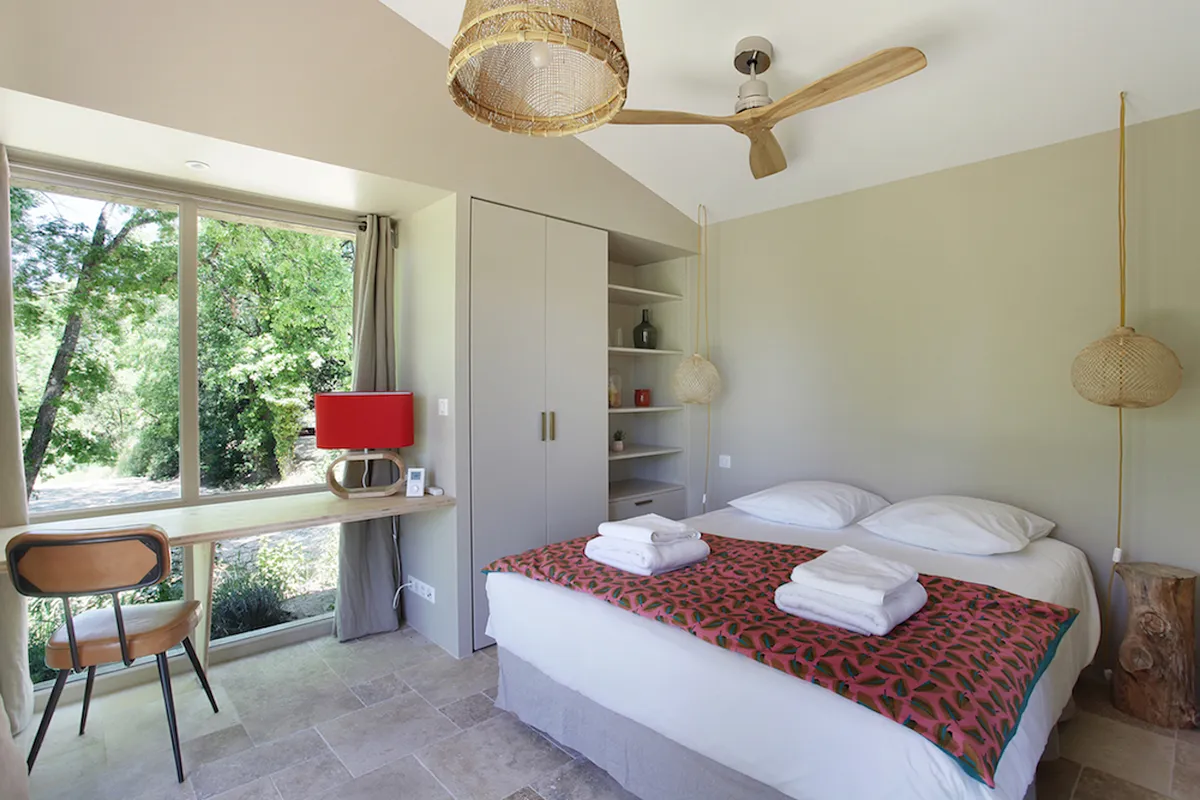 Starting from 166 € / by night
Cottage Senecio
For 2 to 4 persons (55m²)
A luxury cottage with a seventies chic decoration.